"Prometheus" - A Lesson in Illuminati Religion
June 28, 2012


Left - The Alien lifecycle by satanist H R Giger.Why should the alien be drawn inside an Illuminati pyramid, eye of houris and all ? Also notice vagina representation on top of pyramid.
Prometheus is a movie where there are simply too many Illuminati signals to ignore, or dismiss as coincidence. It is a message of what is coming our way.
----

We are living in the times of occultist Alice Bailey's Externalization of the Hierarchy, a time when the satanic plan for humankind would not be the property of a few initiates, but would be promoted openly.

by Marcos
(henrymakow.com)



Fans all over the world were anxiously waiting for the prequel of the Aliens movies, where actress Sigourney Weaver killed serpent-like aliens in what is considered some of the best horror/action movies of all time.

Unfortunately, fans were bitterly disappointed with what looked like a confusing, boring movie, full of plot holes. Was it possible that Ridley Scott, one of the best directors of our time, simply forgot how to make a good movie ?

Of course not. In reality, Scott was not concerned in entertaining people. He was supposed to pass a message, and he's performed his task very well.

PLOT

The movie starts with a humanoid alien in a primordial planet (Earth?) drinking some DNA-changing black goo, which makes himself explode and create life in the oceans from strands of his chromosomes.

Fast forward to 2089. Some archeologists, including a Christian named Liz Shaw find several ancient paintings depicting a particular star system.

Peter Weyland, trillionaire CEO of the largest company on Earth, decides to send a spaceship to a planet on that star system, looking for the alien gods that visited Earth long ago.

Once there, the astronauts find a star-ship loaded with jars of the black goo and several dead giant human-looking aliens, the Engineers. It is revealed that the Engineers were on a journey to destroy Earth with the goo weapon, when something bad happened 2000 years ago that prevented the mission. Somehow, the evil serpent-like aliens grew from the goo and killed the humanoid aliens.

The astronauts wake up the last sleeping Engineer, who in turn, in an attempt to resume his mission, kills everybody with the exception of Liz, only to die later at the tentacles of a monster alien from the Aliens franchise.

Liz, with the help of David, an android built by Weyland, take control of another abandoned alien spaceship and instead of coming back to Earth to warn people, decide to go to the alien-gods planet in order to convince them not to exterminate humankind.

The movie touches many complex issues, but two subjects are the most important:

TRANSHUMANISM

Weyland is a super genius, the richest man on Earth who probably would be presiding the Bilderberg meetings, knighted by the Queen and offered the Rothschild's daughters as brides. There is an interesting TED speech done for the promotion of the movie, where a young Weyland says that we are now gods because we can create cybernetic life, like the man-like robot David.

This is a very common theme in all Illuminati-driven movies and music: cyborgs, nanotechnology medical bots, all kinds of improvements on the "imperfect" body that God gave us, especially reserved for those few who can afford it.

However, fast forwarding some 50 years to the time of the movie, we see that even with his science, Weyland is dying.

Cybernetics can only go so far, and if man wants to live forever, he needs to evolve his DNA. The Engineers were the ones who created humankind, so Weyland thinks that they are the key for the continuation of our evolution, our next "jump".

However, he is arrogant in his demand for eternal life and the Engineer kills him instead. One can't approach a god this way.

The first message is this: humankind can only take the next step in evolution when it complies with (worships) the Engineers' plans and intentions.

OCCULT

Prometheus relies heavily on the works of Erich Von Daniken, the author of The Chariots of Gods and other works that affirmed that aliens created men. It also defends the views of people like Zachariah Stichin, who say that Sumerian gods from outer space, the Anunnaki, created men.

In their worldview, there is no space for the Christian God, judged to be a human fable. Obviously, in their perspective, these Engineers would return some day to help us save humans from ourselves.

Two particular scenes show the anti-Christian character of the movie. First, Jesus is depicted as an alien, who was sent to observe us but was instead killed.

That's why the punishing mission was started 2000 years ago. Ridley Scott confirmed this in interviews. Later, at the end of the movie, Liz, the Christian, takes back her crucifix necklace and is said to have had her faith returned.

In fact, she changed her faith, from a Jesus who is God, to a Jesus who is an alien. That's why she heads to the Engineer's planet, to meet this new Jesus.

So there we have it. Our real gods are aliens, and we need to drop our old religion and start worshiping them. Those who are worthy will receive a DNA boost that will make them become gods as they already are. This is the gift of Prometheus, the god who brought fire to humankind in a self-sacrificing manner.

We can't forget that other partners in this movie are also involved with Illuminati themes. James Cameron is the director of Avatar, The Abyss and Dark Angel, and is an insider activist for the new world order.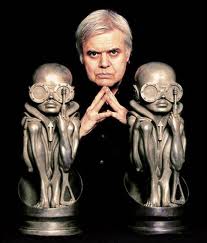 H. R. Giger, left, the creator of the alien monster, is a self-professed Satanist, and his works, such as the Necronomicon, are blasphemous and pornographic. According to author Bill Schnoebelen, Giger is a member of the Swiss branch of Aleister Crowley's OTO, a Satanic organization. This did not stop Scott from saying that meeting Giger was the best thing that ever happened in his life. We just wonder what Giger taught Scott.



WHAT THE ILLUMINATI ISN'T SAYING

We are living in the times of occultist Alice Bailey's Externalization of the Hierarchy, a time when the satanic plan for humankind would not be the property of a few initiates, but would be promoted openly. However, the poison inside the plan will never be advertised.

The aliens who have been contacting the occultists don't come in material form; they don't land a ship in their backyards. They come as spirits, as demonic entities who possess mediums in order for them to write their books. The orbs we see in Youtube are not solid UFOs; they are apparitions. It is a spiritual phenomenon.

Another thing they won't say is that only a few elect will be chosen to participate and lead the New World Order. Not everybody will merit the enhancements. In fact, most of humankind is useless and will have to be disposed of, especially if they don't agree to serve the masters.

According to the Bible, aliens already visited the planet and messed with our DNA (Genesis 6:1-4). They were fallen angels who had intercourse with women and generated hybrids called Nephilim. These turned out to be utterly evil creatures who had to be exterminated by God in the Flood in order to protect human genetic purity, and the eventual birth of Christ.

Some Christian authors like Douglas Hamp and L. A. Marzulli believe that Satan will eventually deal the same trick in the end times, with the goal of polluting humankind's genoma, perhaps with some kind of DNA tampering substance linked with the mark of the Beast (a beast is not a pure man).

If we think that Jesus Himself said that the time of His coming would be like the times of Noah, when Nephilim roamed the earth, we should listen to what they have to say.

Also in the Bible we read about a coming Great Delusion, some kind of lying trick so huge that only God's hand can protect people from believing in it. The number of Illuminati sponsored movies such as Knowing, with the elite's darling Nicholas Cage, and Mission to Mars, along with the huge media attention to UFOs suggest that some alien contact is on its way.

These guys, who are really demonic beings in disguise, will require that we throw away all old religion and embrace them, and the man of their choosing, the anti Christ, as savior.

CONCLUSION

There is a great chance that the Satanic elite is programing us to accept some kind of genetic tampering with the promise of a quick evolution progress, freedom from disease or paranormal powers.

They will say this is a gift from the aliens who created our DNA in the first place. Perhaps these aliens will be there to vouch for this claim. Remember that the Bible says that there are aliens; they are called holy and also fallen angels.

The tampering with the genome is obviously in disobedience to God's command to not harm the body, which is the Temple of the Holy Spirit, which should be used it to honor God (1 Cor 6:19-20). We already see a growing trend in piercings, tattoos, scarring and horrible mutilations today, which contradict this command.

An injection of mutating DNA is only the next step. Maybe that is why those who receive the mark of the Beast can't be redeemed anymore, because they cease to be fully human.

Prometheus is a movie where there are simply too many Illuminati signals to ignore, or dismiss as coincidence. It is a message of what is coming our way.

They want us to think that Prometheus (Lucifer) is a benevolent, self sacrificing god who is giving us the light. In truth, we should regard Prometheus as a drug dealer who gives us the gift of crack cocaine. Caveat emptor.

--
For another take-- Aspen: "Prometheus, Another Illuminati Home Movie"
---
You have reached the End of the Article... But, read on...
Apostle 1.com's Disclaimer Notice and other things

Contents & Links:

Some of the items you may come across requires Adobe ".pdf" reader. If don't have Adobe Reader installed on your pc, click here to download it for free. You will need Adobe Reader to open pdf files. (Most pc's already have an Adobe Reader installed.) However, you may also wish to use Open Office which is another Free download that can be reached at: http://www.openoffice.org Which provides (for some people) a better way to create and manage documents as well as " .pdf " files and other items.

In due time we shall be using "zipped" files. Most computers already have installed a ZIP FILE EXTRACTOR, however

If you need a Zip utility program to unzip or extract zipped files,

click here

to download a free trial of WinZip

.

Disclaimer Notice & Other things:

(

Apostle1.com's Note, Commentary, opinion & Disclaimer Notice: We Have many Contributors to our DAILY NEWS SERVICE, as well as many other Updates & Information provided - We are thankful for our Desert Angels, Our Flying Foxes, Our Flying Squirrels and our many other contributors... Even though we don't always give the credit they deserve... We want you, the viewer to know that they are a part of our life and living... They are, according to their nature & degree of ability, truly Christian in Spirit and in Truth for they have YOU, the viewer in mind as a part of their own concerns too, as we do too!

However... there is something else we wish to warn you about.

DISCLAIMER NOTICE: The views expressed at this website regarding any article not directly connected to religious content is the opinion or commentary of the author which we may not necessarily believe in, accept or support, and some religious articles we may not accept or support either. We take no responsibility or liability for the content of any news item or article presented as any information provided which you rely upon requires that you, the reader/viewer, take action to verify its worthiness on your own. We have deduced to a minor degree, that the information provided by the author is such that warrants posting for you the viewer/reader only... and that any statements or purported facts, including any news item, is for you to verify as to its authenticity. We take no liability and no responsibility for its accuracy whatsoever! You who are new visitors, may wish to read a very short article below entitled "The purpose for presenting our Daily News section" Sadly to say, we take no pleasure in stating that some of the items we post are not from what we would call true "Christian" organizations. But we post it because it provides another side of the proverbial story. The Church, after all, is supposed to be a temple for sick souls (sinners) without distinction between their worse sins or otherwise, but it seems to some organizations that they say much about others, but fail and refuse to upbraid themselves and their members for their own sins...

)

"Never, never, never let anyone tell you that, in order to be Orthodox, you must also be eastern. The West was Orthodox for a thousand years, and her venerable liturgy is far older than any of her heresies."

- Blessed St. John Maximovitch of Shanghai and San Francisco

The purpose for presenting this Daily News section:

Daily News is very important to those who are true Orthodox Catholic Christians. For without knowing or gaining information for understanding about what is happening in one's local area and around the world, you could find yourself faced with denied services in the secular area, lack of income, even (although it sounds far-fetched) ability to worship openly for the time is not far off when all will have to decide if they wish to follow the Anti-Christ through the One World Church and One World Government as prophesied by the Apocalypse, the Book of Revelation of St. John or follow the faith delivered once and for all which will cause for many to be denied the abilities to survive under those kind of conditions, causing for one to consider other options.

Many of those who subscribe to, and some who have caused or are the cause for, these things to happen are involved in or with the Roman Jurisdiction of the Catholic Church (which is not the seat of all things "Catholic") as well as its protestant daughters such as the cultic Jehovah's Witnesses, the Pentecostal Churches, the Church of Latter Day Saints also known as the Mormon Church and far too many more to list.

Yet, at this web site we do provide some of the reasons about why they are opined to be the harbingers of that which is prophesied in Holy Scripture for the bringing about of the End Times which we have already entered. It is not necessarily their individual members or parishioners that should be blamed since they are only the "Sheep" and not the Shepherds... So do not think we castigate individual people of themselves as we castigate those "money changers" who Jesus Christ chased out of His Father's House as the Bible Describes; for they exist in these present times too.

Events are already rushing toward that time in which this is beginning to happen and will become more fully wide-spread. In these present times all you need to really do is look around both your local and larger areas as to what is really on-going through. Things so very little or miniscule that they are barely noticeable except to the more informed observer may become apparent.

Those little things are the laws of the land, economics, politics, the degrading and erosion of those rights and liberties afforded by the Constitution of these United States of America and many other things such as the manner with which entertainments have taken over much of the populace, entering into and becoming a major focus in worship, and more.

We ask you, if you don't want to believe us... Have you heard, seen or found what is termed (of the many terms being used) that there are "holding areas" or "camps" or "Closed/Fenced communities" being built by GOVERNMENT?

Here in North America, especially in the United States of America, we must admit that what Russia has come out of (a communistic, atheist country) we are entering into. And one last thing that needs also to be understood... Something very important to those of you who are "Catholic" in the Roman sense of its jurisdiction.... And, we believe this also holds true for many who are "Orthodox" whether "Eastern" or "Western"....

[ * Non-Denominational = Synchrestic Ecumenism, Disease of Scholasticism, altering the Life and Teachings of Jesus Christ to accommodate the disease of Political Correctness and CULTIC PROTESTANTISM, and the Roman Jurisdiction (Latin Church = Vatican) of the Catholic Church) breaking of - or failure and refusal to respect and abide by - the ancient Seven Ecumenical "Do Not" Canons which leaves everything else open to God's gift of creativity... failure & refusal to abide by and have respect for those who diligently protect one of the other Pillars of the Church, the Seals of the Confessional, but "Non-Denominational" also includes worshiping Satan's religion of Muslim, Islam by praying with them and other heretics such as 'Pentecostalism,' 'Jehovah's Witnesses,' 'Mormons,' 'Church of Christ,' any so-called church with "Community Church" in their nomenclature and others who by their false and misleading dogmas and doctrines are actually against the Life and Teachings of Jesus Christ upon whom and for exacting reason we are called "Christian" in both spirit and truth from which non-denominational protestant sectarian claimants have departed from as being so-called Christian] Only a skilled spiritual father can help you!

Remember: You cannot ride two horses or serve two masters for one of them will be harmed by your thoughts, your very words and your actions which is to blaspheme the Holy Ghost (Spirit) who will depart from you. And when the Holy Spirit departs, the great deceiver (unbeknownst to you) will rush in to fill the void under disguise of being the Holy Spirit! Testing of the Holy Spirit to insure it is the Holy Spirit does not, for many a Sectarian Protestant and Roman, work because the Great Deceiver (Satan) is most skilled in worming and snaking his charms around your mind and heart to feign being the Holy Spirit. Remember, Satan has the same gifts similar to the Holy Spirit but Satan's gifts are UN-HOLY and lead all who accept him (unbeknownst to you) to perdition.

About This Web Site - About Who We Are - Some of our Synod members & clergy - About Holy Orders & Institutions

AOC/NAOC CODE OF CANON LAW - A Dictionary of Orthodox Catholic Words & Terms

About Ancient Canons & Councils = HIV/Aids and Cancer In America - A tribute

A Message from our Spiritual Father (constantly updated) - Abouna +Gregori's Own - Let The Truth Be Known

Many things relevant to the Life & Teachings of Jesus Christ

Our Clergy Application & Agreement Commemorations for the living and the reposed

Daily News - Deacon Christopher Herman News PRESENTATION and Archive pages - Education & More

Christian Love - a different way of Praying the Our Father

-

- FAITH WE NEVER KNEW IS A STUDY IN CANONICITY

Monastery of St. John Maximovitch and the Holy Theotokos (includes the Brotherhood & Community)

On-Line Discussion Groups - Our Core Beliefs - Our Clergy -

Problems of Orthodoxy in the Americas - The Canonical Problem

Quotes From Father +Thaddeus Religious Products ???
DISCUSSION GROUPS
http://groups.yahoo.com/group/apostlethaddeus/?yguid=8677001
and
http://groups.yahoo.com/group/americanorthodoxchurch/
Join:
"Never, never, never let anyone tell you that, in order to be Orthodox, you must also be eastern. The West was Orthodox for a thousand years, and her venerable liturgy is far older than any of her heresies."
- Blessed St. +John Maximovitch of Shanghai and San Francisco
"Prejudice makes Prisoners of the Hated and the Hater"
M
etropolitan Archbishop +Joseph Thaddeus (1990)
Join Our Vladyka on Facebook where you may wish to ask him questions that are non-confrontational
© 1981-2012 American Orthodox Church - North American Orthodox Church
International Communications Headquarters
Mailing Address: 212 So. 16th Av., Caldwell, Idaho 83605
Telephone: (208) 459-2901
TOTAL VISITORS since 1999: