OP ED NEWS UPDATES
By Rob Kall
Obama's 10,000 Troop Spit In The Ocean-- Not Even Close to Good Enough
What we are witnessing is one more example of failure of leadership, failure to stand up to the people Obama is supposed to be commanding. Instead, he is, as people now expect him to do, "listening to the Generals." That's not what Obama was elected to do. He was elected to make hard decisions.
By Ron Paul
Obama's Orwellian Logic in Libya
10 Congressmen from opposite ends of the political spectrum are suing the President over the illegal war in Libya. In a remarkable act of chutzpah, the administration responded, in a nutshell, that the War Powers Resolution is not relevant because US armed forces are not actually engaged in hostilities because Libya is so militarily weak it cannot fight back!
Dangerous radiation leaked from three-quarters of U.S. nuclear power plants
Water tested around 37 of the facilities contained radioactive concentrations exceeding the U.S. drinking water standard and in some cases at hundreds of times over the limit.
By Richard Charnin
TrueVote Shows Dems Won WI, IL and PA Senate Elections in 2010
The conventional wisdom is that the 2010 midterms were a GOP blowout of epic proportions - even bigger than 1994. Yes, the party in power nearly always loses seats in the midterms. The unconventional wisdom is that the Dems do significantly better than the recorded vote in every election. There is no reason to suspect that 2010 was any different.
By Mike Whitney
More Treachery at the Fed?
Get the picture? Inflation targeting is neoliberalism writ large, no different than "structural adjustment," "debt consolidation," "privatization of public assets," etc. It's another subsidy for speculators while ordinary working people get kicked to the curb.
By Mac McKinney
Death Rains Down from Above on both Sides in Libya
Death is raining down on both sides in Libya. Is there any way out of this conundrum?
By Kevin Gosztola
Local News Stations Engage in Covert Consolidation to Circumvent Media Ownership Rules
A new trend in news (particularly in local newsrooms) is changing the independence of news networks. A business practice of covert consolidation that consists of deals, loopholes and legal agreements between local television stations that allow them to outsource all the majority of their news programming and circumvent media ownership rules is being employed.
By Jill Jackson
The Canary in the Coal Mine or The Shot Heard Round the World?
Greece's struggles may provide a glimpse of American's future. This is a different war, and we're on the losing side this time. This is a war between entitled, rapacious narcissists and sociopaths, and the other 90% of the world they are seeking to indenture and enslave.
By Robert Greenwald
Inside the Koch Brothers' Expensive Echo Chamber
Documents and interviews unearthed in recent months by Brave New Foundation researchers illustrate a $28.4 million Koch business that has manufactured 297 commentaries, 200 reports, 56 studies and six books distorting Social Security's effectiveness and purpose.
By Kathy Malloy
Dirty Laundry
Let me get this straight, we can't see the face of an executed Osama bin Laden because exposure to that image might be too disturbing, but we can listen -- at length -- to a woman screaming in agony, her pixilated image writing on the screen, begging for mercy...and that's okay with everybody? No ethical concerns at all?
By Allen L Roland
Fukushima Cover Up Continues / Looming World Health Crisis
Recently President Obama ordered a complete news blackout of the flood ravaged crippled Fort Calhoun, Nebraska nuclear plant which is a symptom of the ongoing world wide cover up "of the biggest industrial catastrophe in the history of mankind'~ Fukushima: Allen L Roland
By theWeb
Stop the iPhone Kill Switch
hink you own your smartphone? Think again.
By Robert Scheer
Bill Clinton's Legacy of Denial
Conceding that the bailed-out banks are sitting on $2 trillion that they won't lend, Clinton offers not a word about mortgage relief for swindled homeowners. With an all-time high of 44 million Americans living below the poverty line, Clinton once again brags of his success in ending the federal welfare program.
By Fay Paxton
America's Human Lab Rats
A review of human drug experimentation in the United States.
By Bernard Starr
A Jewish King and Queen of England? It's Possible
Credible evidence suggests Jewish ancestory for Kate and WIlliam
By Rev. Dan Vojir
June Has Busted Out All Over: With Sex, God, Love, Hate ... And Exploding Right Wing Brains
Hear that popping sound the last three weeks? Right wing brains have been exploding at an alarming rate, make June the month to watch the fireworks - and the bigotry, the righteousness, the viciousness, the overall insanity that is today's Right Wing.
By Ed Martin
Scalia Brings Sharia Law and Blank Paper Law to Supreme Court
Sharia law, the main effect of which is the suppression of women, has been brought into practice by Antonin Scalia in a Supreme Court opinion, along with an innovative concept, Blank Paper Law.
By Rev. Dan Vojir
The Political Half-Quit: Sarah Palin Couldn't Do Better Than GRACIE ALLEN
Sarah Palin - the political half-quit - says she is postponing the rest of her magical mystery bus tour across America because of jury duty obligations.
Postal Service suspends retirement plan contributions
"This move underscores the need for Congress to make bold, quick and substantive reforms to the Postal Service. The USPS is hanging by a thread, along with 8 million private sector jobs that depend on the mail," said Art Sackler, coordinator for the Coalition for a 21st Century Postal Service, a group representing the private sector mailing industry.The action is expected to free about $800 million in the current fiscal year. The post office's FERS account currently has a surplus of $6.9 billion, the agency said.
By Patrick Martin
The Land of Unlimited Inequality
Two academic economists, Jon Bakija of Williams College and Bradley Heim of Indiana University, together with Adam Cole of the Office of Tax Analysis at the US Department of Treasury have released a study indicating that inequality in the US has become extreme & explosive. reveals
Bill McKibben, Naomi Klein, Wendell Berry Call for Civil Disobedience on Tar Sands
A group of leading environmental activists, many associated with the grassroots group 350.org, and many of them Nation writers, have issued a call and invitation for concerned citizens to take part in a campaign of non-violent direct action this summer in Washington, DC, in all likelihood, organizers say, during the last two weeks of August.
By Rory OConnor
Jose Antonio Vargas Is an American Hero
Jose Antonio Vargas is incredibly brave to risk everything he has accomplished in this country in order to tell the truth-and to shine yet another but still much-needed light on the pressing need for comprehensive immigration reform in this country. He, and millions like him, have much to contribute to America -- and without people like them, our country will be far poorer.
Fastest Sea Rise in 2,000 Years
The rate of sea level rise along the U.S. Atlantic coast is greater now than at any time in the past 2,000 years -- and has shown a consistent link between changes in global mean surface temperature and sea level.
By Anne Mendenhall
For the Love of Our Country
We are at such a critical juncture in our country. Daily we are being denied choice of food, health care, privacy, quality of life, jobs. We must devise a plan, or plans, to help ourselves out of this crisis. Here is my plan.
By Sherwood Ross
Obama Talks Afghan Drawdown, But No Words About 865 Foreign Bases
If Obama was serious about making withdrawals in Afghanistan, he'd reduce the number of the Pentagon's 865 bases it is using to dominate the world and where there are no threats and no fighting.
By Stephen Lendman
McCain/Kerry Support Imperial War on Libya
US imperial aggression

Latest Articles
---
Lions and tigers and E. coli
Some state and county fair organizers continue to fall back on stale old midway displays such as tiger cub photo booths, pig races and petting zoos. For the sake of the animals as well as children--who are put in harm's way by such displays--parents should avoid cruel animal attractions.
US-Led Terror Bombings Target Civilians
US imperial aggression
"Snake House" Might Generate a Case for the Courthouse
A house filled with snakes could lead to legal issues.
Thanks To Those Who Irritated Me!
A personal testimony about how activists like Cindy Shehan helped open the eyes of a former Bush/Cheney supporter to policies of government abuse (and to the slippery slope of disregard for human rights we were sliding down), begun by the Bush administration, and that are, for the most part, unfortunately, still being pursued by the Obama administration.

Best News Links from the Web
---
No Food Safety in These Numbers
The numbers boggle the mind, but here it is, simply: With both FDA and WIC, we are talking millions in spending to save billions in health care costs. Shall we count the ways in which our representatives might save enough money to pay full freight for both of these programs, besides the future savings, besides coughing up 0.632 percent on what we've spent in Iraq, Afghanistan and Libya?Let's see: reducing direct subsidies for commodity crops,which costs us at least $5 billion? Negative.Cutting subsidies for ethanol, another $6 billion?Nope.Reduction or elimination of the Bush tax cuts, which have cost us somewhere around $39 billion in just the seven months since their extension (with, by the way, no significant decrease in unemployment, the ostensible reason for the extension) Fuggedaboutit.An enforcement of the corporate tax rates, which would yield tens of billions? Hah!
Watchdog Group CREW: Sen. Vitter Tried to 'Bribe' Sec. Ken Salazar With Pay Raise
In a May 23 letter (PDF) to Secretary Ken Salazar, Vitter was clear that he would not vote for a pay raise until the Department of Interior began issuing six deepwater exploratory permits each month. "Last Friday, I was asked to support legislation in the Senate to grant you a nearly $20,000 salary increase," Vitter wrote. "Given the completely unsatisfactory pace of your department's issuance of new deepwater exploratory permits in the Gulf, I cannot possibly give my assent." "[W]hen the rate of permits issued for new deepwater exploratory wells reaches pre-moratorium levels (so 6 per month), I will end my efforts to block your salary increase."For his part, Salazar quickly turned down the offer, asking that the pay bill be withdrawn.Vitter's office has dared the Justice Department to file charges.
Nurses Join International Push for Bank Trade Tax - Gaus
Hundreds of nurses and their allies rallied on Wall Street Wednesday to remind the bankers they owe the nation, and the union movement is determined to collect. "This shared sacrifice stuff is a bunch of hooey. They haven't given a thing," said Deb Burger, co-president of National Nurses United, which led the protest. "People are suffering in their homes, in isolation. It is not your fault."
Bank robber planned crime and punishment
He considered turning to a homeless shelter and seeking medical help through charitable organizations.Then he had another idea: commit a crime and get set up with a place to stay, food and doctors. erone says he's not a political man. But he has a lot to say on the subject of socialized medical care. He suspects he wouldn't be talking to a reporter through a metal screen wearing an orange jumpsuit if such an option were available in the U.S."If you don't have your health you don't have anything," said Verone.The man has high hopes with his recent incarceration.He has seen several nurses and has an appointment with a doctor Friday.The ideal scenario would include back and foot surgery and a diagnosis and treatment of the protrusion on his chest, he said. He would serve a few years in prison and get out in time to collect Social Security and move to the beach.
Dan Froomkin: Harry Reid Solicits For Democratic Super PAC: The Race For Unlimited Funds Is On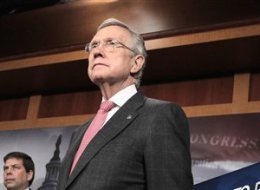 Democrats outraged by the legal rulings that allowed unlimited corporate contributions to pour into the 2010 elections have taken two paths. Some are still fighting against a situation they see as too corrupting to let stand. Others are taking the "if you can't beat 'em, join 'em" approach.
American flotilla passengers set to challenge U.S. support for Gaza blockade
U.S. flotilla activists had a meeting with the State Department in which they provided details about the mission and asked for protection. The activists also wanted to "talk policy issues," which the State Department declined to meet with them about.
'Israel ups West Bank demolitions'
Israeli forces have so far demolished 103 residential structures in which 706 persons lived. The new figure shows a sharp rise from 86 structures destroyed in 2010, according to the statement. Israel claims that it only demolishes structures built without permits. But the Palestinians have no choice because Israel, which controls the occupied West Bank, rarely gives Palestinians permits to build.
Is Gadhafi's Financing of Farrakhan Paying off? Or do Birds of a Feather Just Flock together?
"The Jews don't like Farrakhan, so they call me Hitler. Well, that's a good name. Hitler was a very great man," Louis Farrakhan said back in the mid-90's, although he would temper these remarks from time to time with a few criticisms of the Fuhrer in order to avoid utter public excoriation. So with a moral compass like this, it is not any surprise that he is a fervent supporter of Gaddafi and his "Revolution", and whose past fantasies of destroying the West he has often augmented with his own violent rhetoric.
Republicans do not have the power to block an Elizabeth Warren recess appointment
Media outlets have reported that the Republicans, despite being the minority party in the Senate, can block not only Senate confirmation by the Democratic majority (using the standard filibuster), but also a recess appointment--by stopping the Senate from adjourning. How can the minority party stop the Senate from taking a break? Press accounts haven't explained or elaborated on the point, except to report that apparently it's the House--meaning Speaker Boehner--that can hold the Senate open. That doesn't explain much.
Obama to order home 10,000 troops from Afghanistan, officials say
President Obama will announce in his prime-time address Wednesday that he will order home 10,000 U.S. troops from Afghanistan this year and another 23,000 by the end of September 2012, according to administration officials speaking on condition of anonymity to discuss the speech.
Nelson Mandela welcomes Obamas on Africa tour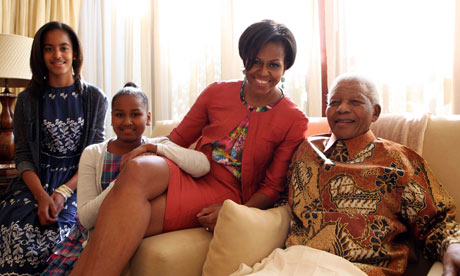 Though now largely retired from public life, Mandela sent word he wanted to see the US first lady and her two daughters, Malia and Sasha, while they were in town as part of a tour of southern Africa. Mandela's legacy as the hero of the fight against white minority rule is one of the themes of the Obamas' visit.
Al Gore: Climate of Denial
To sell their false narrative, the Polluters and Ideologues have found it essential to undermine the public's respect for Science and Reason by attacking the integrity of the climate scientists. That is why the scientists are regularly accused of falsifying evidence and exaggerating its implications in a greedy effort to win more research grants, or secretly pursuing a hidden political agenda to expand the power of government. Such slanderous insults are deeply ironic: extremist ideologues -- many financed or employed by carbon polluters -- accusing scientists of being greedy extremist ideologues.
Newt Gingrich loses two more aides
Two top fundraisers for Newt Gingrich quit Tuesday, becoming the latest casualties in a series of staff departures that have badly hamstrung the former House speaker's 2012 presidential bid. Fundraising director Jody Thomas and fundraising consultant Mary Heitman have abandoned the Republican's campaign, Gingrich spokesman R.C. Hammond confirmed Tuesday.
CIA Director Panetta Gets Senate Approval as Next U.S. Defense Secretary
The Senate unanimously approved CIA director Leon Panetta as the nation's 23rd defense secretary, to wind down wars in Iraq and Afghanistan and improve cyber defenses in a time of budget cutbacks. Panetta takes his new post on July 1, succeeding Robert Gates, who was appointed by former President George W. Bush and is retiring from government. The vote for Panetta was 100-0.
Koch Echo Chamber Destroying Social Security
Short video by Bernie Sanders: The Koch brothers fund multiple think tanks and academic centers to promote their ideology and grow their profits, a Brave New Foundation investigation reveals. Let's create an echo chamber of truth by using YouTube's SHARE tools above to protect Social Security and counter the Koch billions.
---
You have reached the End of the Article... But, read on...
Disclaimer Notice and other things
Return To Daily News Section...
Our Clergy Application & Agreement
HEALTH CARE AND HIV: NUTRITIONAL GUIDE FOR PROVIDERS AND CLIENTS
HIV/Aids and Cancer In America - A tribute
One of our Discussion groups which you may wish to join is located at:
http://groups.yahoo.com/group/apostle1/
Two others are:
http://groups.yahoo.com/group/apostlethaddeus/?yguid=8677001
and
http://groups.yahoo.com/group/americanorthodoxchurch/
Join the: Apostle1 group at MSN.GROUPS.com
Main E-Mail Addresses:
Special Instructions from apostle1.com to you the viewer: On many of the articles and information that we post, there are links to other web sites and pages regarding News, Information, etc. Be sure to click your "back" button in order to return to this web site... so that you can completely read the many other articles, news & information provided.
In addition, when you have reached the end of an article, you will notice that there is much that can be viewed by clicking on an article after our "Disclaimer Notice". We have taken the liberty to provide other information such as helps in definitions and understandings that are truly Orthodox Catholic (not of the Roman Jurisdiction of the Catholic Church)... There is much, may be (according to some) too much! But there is never such a thing as "too much" when attempting to learn and live the life a true Christian.... For indeed if we are true Christians, we each and every one of us needs information that will enlarge , or - at least, enhance our spiritual understandings.
We must entrust our soul into the hands of God the +Father, the +Son, and the +Holy Spirit who, as one God (the Holy Trinity) is the source of all life and abundance for us who are still in this earthly vessel. He knows our strengths (and our weaknesses) for he gave us strength... It is our failings and sins that make us weak in spirit! If He were to give us one dollar in conformity to our strength, we should not seek five, so as not to grow faint under the weight of having too much, so that the gift which is intended to serve to the good would not serve to the our great condemnation. We must flee from our sinful falls not to reclusion, not to the desert, but to self reproach, to confession of our sins - to repentance! Our perplexity, our reasoning and our will - we must plunge them into the abyss of the munificence and Providence of God!
Thank You!
Webmasters of Apostle1.com
For our Vladyka +Thaddeus (Metropolitan Archbishop +Joseph Thaddeus) - Primate
Disclaimer Notice & Other things:

(Apostle1.com's Note, Commentary, opinion & Disclaimer Notice: We Have many Contributors to our DAILY NEWS SERVICE, as well as many other Updates & Information provided - We are thankful for our Desert Angels, Our Flying Foxes, Our Flying Squirrels and our many other contributors... Even though we don't always give the credit they deserve... We want you, the viewer to know that they are a part of our life and living... They are, according to their nature & degree of ability, truly Christian in Spirit and in Truth for they have YOU, the viewer in mind as a part of their own concerns too, as we do too!

However... there is something else we wish to warn you about.

DISCLAIMER NOTICE: The views expressed at this website regarding any article not directly connected to religious content is the opinion or commentary of the author which we may not necessarily believe in, accept or support, and some religious articles we may not accept or support either. We take no responsibility or liability for the content of any news item or article presented as any information provided which you rely upon requires that you, the reader/viewer, take action to verify its worthiness on your own. We have deduced to a minor degree, that the information provided by the author is such that warrants posting for you the viewer/reader only... and that any statements or purported facts, including any news item, is for you to verify as to its authenticity. We take no liability and no responsibility for its accuracy whatsoever! You who are new visitors, may wish to read a very short article below entitled "The purpose for presenting our Daily News section" Sadly to say, we take no pleasure in stating that some of the items we post are not from what we would call true "Christian" organizations. But we post it because it provides another side of the proverbial story. The Church, after all, is supposed to be a temple for sick souls (sinners) without distinction between their worse sins or otherwise, but it seems to some organizations that they say much about others, but fail and refuse to upbraid themselves and their members for their own sins...)

"Never, never, never let anyone tell you that, in order to be Orthodox, you must also be eastern. The West was Orthodox for a thousand years, and her venerable liturgy is far older than any of her heresies."

- Blessed St. John Maximovitch of Shanghai and San Francisco

The purpose for presenting this Daily News section:

Daily News is very important to those who are true Orthodox Catholic Christians. For without knowing or gaining information for understanding about what is happening in one's local area and around the world, you could find yourself faced with denied services in the secular area, lack of income, even (although it sounds far-fetched) ability to worship openly for the time is not far off when all will have to decide if they wish to follow the Anti-Christ through the One World Church and One World Government as prophesied by the Apocalypse, the Book of Revelation of St. John or follow the faith delivered once and for all which will cause for many to be denied the abilities to survive under those kind of conditions, causing for one to consider other options.

Many of those who subscribe to, and some who have caused or are the cause for, these things to happen are involved in or with the Roman Jurisdiction of the Catholic Church (which is not the seat of all things "Catholic") as well as its protestant daughters such as the cultic Jehovah's Witnesses, the Pentecostal Churches, the Church of Latter Day Saints also known as the Mormon Church and far too many more to list.

Yet, at this web site we do provide some of the reasons about why they are opined to be the harbingers of that which is prophesied in Holy Scripture for the bringing about of the End Times which we have already entered. It is not necessarily their individual members or parishioners that should be blamed since they are only the "Sheep" and not the Shepherds... So do not think we castigate individual people of themselves as we castigate those "money changers" who Jesus Christ chased out of His Father's House as the Bible Describes; for they exist in these present times too.

Events are already rushing toward that time in which this is beginning to happen and will become more fully wide-spread. In these present times all you need to really do is look around both your local and larger areas as to what is really on-going through. Things so very little or miniscule that they are barely noticeable except to the more informed observer may become apparent.

Those little things are the laws of the land, economics, politics, the degrading and erosion of those rights and liberties afforded by the Constitution of these United States of America and many other things such as the manner with which entertainments have taken over much of the populace, entering into and becoming a major focus in worship, and more.

We ask you, if you don't want to believe us... Have you heard, seen or found what is termed (of the many terms being used) that there are "holding areas" or "camps" or "Closed/Fenced communities" being built by GOVERNMENT?

Here in North America, especially in the United States of America, we must admit that what Russia has come out of (a communistic, atheist country) we are entering into. And one last thing that needs also to be understood... Something very important to those of you who are "Catholic" in the Roman sense of its jurisdiction.... And, we believe this also holds true for many who are "Orthodox" whether "Eastern" or "Western"....

[ * Non-Denominational = Synchrestic Ecumenism, Disease of Scholasticism, altering the Life and Teachings of Jesus Christ to accommodate the disease of Political Correctness and CULTIC PROTESTANTISM, and the Roman Jurisdiction (Latin Church = Vatican) of the Catholic Church) breaking of - or failure and refusal to respect and abide by - the ancient Seven Ecumenical "Do Not" Canons which leaves everything else open to God's gift of creativity... failure & refusal to abide by and have respect for those who diligently protect one of the other Pillars of the Church, the Seals of the Confessional, but "Non-Denominational" also includes worshiping Satan's religion of Muslim, Islam by praying with them and other heretics such as 'Pentecostalism,' 'Jehovah's Witnesses,' 'Mormons,' 'Church of Christ,' any so-called church with "Community Church" in their nomenclature and others who by their false and misleading dogmas and doctrines are actually against the Life and Teachings of Jesus Christ upon whom and for exacting reason we are called "Christian" in both spirit and truth from which non-denominational protestant sectarian claimants have departed from as being so-called Christian] Only a skilled spiritual father can help you!

Remember: You cannot ride two horses or serve two masters for one of them will be harmed by your thoughts, your very words and your actions which is to blaspheme the Holy Ghost (Spirit) who will depart from you. And when the Holy Spirit departs, the great deceiver (unbeknownst to you) will rush in to fill the void under disguise of being the Holy Spirit! Testing of the Holy Spirit to insure it is the Holy Spirit does not, for many a Sectarian Protestant and Roman, work because the Great Deceiver (Satan) is most skilled in worming and snaking his charms around your mind and heart to feign being the Holy Spirit. Remember, Satan has the same gifts similar to the Holy Spirit but Satan's gifts are UN-HOLY and lead all who accept him (unbeknownst to you) to perdition.

[Click on any one of the images below to be taken to spiritual and material information and articles]

"Prejudice makes Prisoners of the Hated and the Hater!"

1990 by +Joseph Thaddeus [Stanford] -

Prison Ministry highlights
About submitting Your News, articles and Other Items
We are what you once were.
We believe what you once believed.
We worship as you once worshiped.
If you were right then, we are right now.
If we are wrong now, you were wrong then.
A Canonical Orthodox Church of World Wide Orthodoxy
AMERICAN ORTHODOX CHURCH
and the
NORTH AMERICAN ORTHODOX CHURCH
Institutions include, but are not limited to the following:
Catholic Christian Church, Orthodox Benedictine,
Holy Order and Society of St. Jude Thaddeus
Brotherhood of St. John Maximovitch & the Holy Theotokos
+Who We Are and Our present day Living
+Orthodox, Roman Catholic or Protestant?
+Thaddean Fathers News and Information
Back To:
Pascha - Lenten Season & Easter (Much training and material of Understanding to be found at this link...
Our Daily Commemorations for the Living
Our Daily Commemorations for the Reposed
Our Clergy Application - Agreement
01-20-2010 Update on Seminary Training and other educational efforts!
An Introduction to the WOTI Courses/Gospels/Administration and more...
Also Visit: "How to Set Up a Personal Commemoration Book"
Regarding Orthodox Catholic Christianity, Hierarchs, Ethnic Divide, Politics and cults
NORTH AMERICAN HIV/AIDS BATTLE
The Julian Vs. Gregorian Calendar and other Important Calendar dates
Also See:
Missionary Conversations with Protestant Sectarians
The lives of monks consist of a podvig [(spiritual struggle) exploit] of repentance and of withdrawal from the world. They flee from judging their neighbor in his moral falls, considering themselves to be sinners and the worst of all men.
But, when it is demanded of monks and other clergy, that they remain humble and indifferent to questions of faith, then do they cast off humility and obedience. It is demanded of them, by the conscience of the Church, the faith in and for the Life and Teachings of Jesus Christ that They rise up when the truth of Orthodoxy is threatened. They are supported in this by a living conscience and by a sense of responsibility for that faith for which our forebears-martyrs and confessors alike-sacrificed everything, even their very lives. As a result we have opted to present to you the story about "Modern Day Ecumenism and its horrors" along with various links to who just a few of these Synchrestic Ecumenists are who threaten the root and branch of Christianity as exists in true Orthodox Catholic Christianity (Both Orthodox and Roman)!
American Orthodox Catholic Christian Clergy and Faithful (East & West) need to understand what has been happening about the U.S.A's Constitution as it relates to guarantees of Religious Freedoms being stripped away by some states for what is happening applies even to those of religious bearing.
What You Didn't Know about our U.S.A.!
• MISSIONARY CONVERSATIONS WITH PROTESTANT SECTARIANS
• A Reply to Protestant Sectarians
•
Ancient Canons/Seven Ecumenical Councils
•An Understanding of the Ancient Canons
• Ancient Canons/Seven Ecumenical Councils
• A bit of understanding about the Fundamentalist Cults....
●A Call to become A Soldier in Christ, Jesus
●The Lie about terrorism needs to be corrected!
● What is Freedom and its true Meaning?
The Real Politically Incorrect Net Ring
Are You Prepared Today For the Horrors of Tomorrow?
Awake IV
Does FEMA have master plan to use pastors for homeland security nationwide?
Life After Death - By St. John Maximovitch
ECUMENISM -- A PATH TO PERDITION
On Women's Ordination
Are You Concerned about Why 911 came about? Why are U.S. Troops being trained for Martial Law within the U.S. borders? Why are children in schools being used for control exercises by law enforcement? Why are our educational institutions having less influence in raising standards of excellence as they were in past decades? Who is responsible? Can you really trust elected officials? The questions and "Why"?
REFLECTIONS ON THE FUTURE OF THE WORLD ARMAGEDDON?
LET THE TRUTH BE KNOWN - Part I
Let The Truth Be Known - Part 2
A Response to Twenty Facts about Israel and the Middle East
A Response to the article HIDING IN THE BUSHES AS LEBANON BLEEDS
Please click on this link to hear what John F. Kennedy had to say, and then compare it to what is happening today: http://www.infowars.com/articles/nwo/jfk_secret_society_speech.htm
● What is Freedom and its true Meaning?
Light A Candle, Tell A Friend...
(Abbot +Gregori original)
(Click on Image)
●Old Catholicism and Old Catholics (Old Catholic Benedictine) becoming heretical Protestant and Synchrestic in its ecumenicity!
Let's Clear the Air and Get it Right!
About Our Lines of Succession
What a Fire of Hate Can do and did
Are You Prepared?
Special News:
Civics & the Constitution for Clergy and
All God Loving, God Fearing people of Faith
Can You See Where We Are Heading? - God, Man & the World - Awake I
God, Man & the World - Part B - Awake II - Continuation of 'One World Government', 'One World Religion' & the 'One World banking System'
God, Man & the World
- Part C - Awake III - THE UNITED NATIONS, THE INTERNATIONAL MONEY
FUND AND THE WORLD BANK:
God, Man & the World -
Part D - Awake IV - Tavistock Institute, the Best Kept Secret in America
God, Man & the World -
Part E - Awake V - U. N. Influence in Our Schools
God, Man & the World -
Part F - Awake VI - The United Nation's Plans for the Future of the World
God, Man & the World-
Part G - Awake VII - What is the - "Club of Rome?"
God, Man & the World - Part H - Awake VIII - A Closer Look at the One World Order and Bible Prophecy – Part I
God, Man & the World
- Part I - Awake IX - A Closer look at the One World Order and Bible Prophecy – Part II - The Culture War in America
God, Man & the World - Part J - Awake X - A Closer Look at the One World Order and Bible Prophecy – Part III - The Devaluation of Life
(Notice: Generally our news postings will be on or about Monday, Wednesday & Friday)
WOTI (Western Orthodox Theological Institute)
Special Information and articles
The Good Times - the Bad Times - The End Times
About St. Pambo - St. Seraphim of Sarov in comparison to Francis of Assisi
"Do not be afraid! I know that you are seeking Jesus the crucified.
He is not here, for he has been raised just as he said."
Matthew 28:5-6
The following articles and information do not necessarily reflect the attitude or beliefs of this jurisdiction or those who are with us in spirit and truth!

"I understand the idea of sodomy and homosexuality, but to say that homosexuality is not a sin is incorrect and not just in my mind but all of Orthodoxy and again, not just in Orthodoxy but all of Catholicism and again, not simply all of Catholicism but all of Christianity with the exception of those who have this in their personal life as sin or are very close to someone who does. Celibacy or Married Life is the ultimate ideal. For both Homosexuality and Heterosexuality are truly sinful if... and below is the hard part of this understanding..." (Ed. Note: We have never said "homosexuality is not a sin or okay... however, there are those who, being homosexual, are that way for a variety of reasons. Jesus Christ talked of these kinds as referring to Eunuchs. The conversion tactics employed by many other groups, bespeaks of a "politics" that is not wholly honest either spiritually or even materially. For, in their endeavors they have failed to show forth the truth that one is driven into a "closet" style of life. It is better, we believe, to become wholly celibate, be it a homosexual or even heterosexual... and to learn what "celibacy" really means and requires).

If a man looks on a woman who is not his wife with lust, he has sinned. If he and she are married to other people he has committed adultery. If a man looks at a man with lust he has sinned the same as a man who looks at a woman. Sodomy does not have to enter into it, lust for someone is a sin by itself and must be removed. But people do this all day long to be sure but it is still a sin. To say that homosexuality and heterosexuality are not a sin due to their lusting, allows both heterosexuals and homosexuals to live in sin without repentance and this is wrong to do to them spiritually.

It is for the sake of their own soul that one has to recognize sin that is in them and not to excuse it regardless of the sin or the preference of the sinner. Sodomy is indeed a sin regardless of what any one may tell you, the act of attraction or the lust is a sin even without action and simply must be repented of by both heterosexuals and homosexuals. I must also add this; woe to all who misguide others into sin and especially those who are of the clergy who do this. For the sake of your own soul and others, you must recognize this and repent. I know that it is not easy to overcome and if it is never overcome then one must live a life of constant repentance, that is the only choice.

Might We also Suggest t

he following important articles for the season of Lent:

+ A Monastic Struggler's Story for Lent